The Premier League's success since its 1992 inception has certainly made it harder for young homegrown players to transition to first-team football at the highest level. In such a competitive league, where clubs have huge funds, managers and football directors always want the best possible "ready to use" talent from around the world.
English membership of the EU single market – we'll see what happens after Brexit – makes it particularly easy to get players from Europe. And with so many continental managers at Premier League clubs working under enormous pressure, it's only reasonable they sign players they know well.
Southgate for one is not convinced it's a simple quality problem. As he put it:
Nobody can tell me that, if [English] players are good enough, they will come through. That is not true. There are plenty of players who are good enough.
If so, we must ask what else could be done to boost the chances of aspiring Lions. One major difference between England and certain continental countries is there are no "B" teams of major clubs in lower divisions. In Spain, Portugal, Germany and Ukraine, this makes it easier to integrate young players into a club's top team. Italy is now trying this too, with Juventus B launching in the country's third tier, Serie C, this season.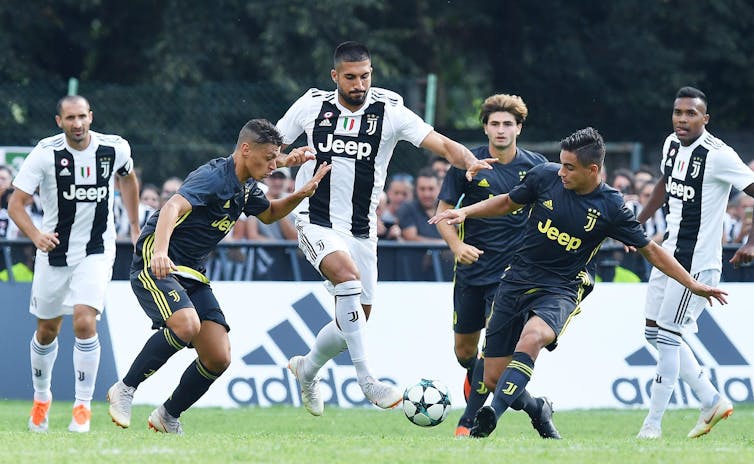 Juventus vs Juventus B, August 2018. EPA
Unlike the reserve teams or under-23 teams common in England, B teams arguably give young players more playing time at a higher competitive level. There are also advantages over England's system of loaning out players to lesser clubs or of using feeder clubs in the way that Liverpool takes players from Genk of Belgium, or Chelsea from Vitesse Arnhem in the Netherlands: being part of the same club structure and training in the same environment arguably allows for enhanced internal mobility and increases the chances for opportunities in the first team.
The potential of B teams also extends to managers: after a difficult start to the season, Benfica replaced Rui Vitoria with B team manager Bruno Lage. Legends like Zinedine Zidane and Pep Guardiola also developed their coaching skills in these secondary set ups, previously managing Real Madrid Castilla and Barcelona B respectively – indeed, Guardiola himself has made the case for B teams in England in the past.